MISSION & VISION
CHANGES
WE NEED
"I have a passion for people and a burden to help repair our broken system."
2019 Canadian Federal Election In:
Vote to save Canada on October 21, 2019!
2019 PLATFORM
Issue The Canadian Armed Forces has a proud history and is one of the most capable and respected military forces in the world. Unfortunately, successive […]
Find out how the Peoples Party of Canada's platform stands out against the rest!
WE NEED
YOUR HELP
We need volunteers to help spread the word about freedom and liberty — sign up below to join my team!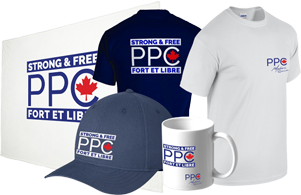 GET YOUR OFFICIAL
PPC MERCHANDISE
Receive a FREE PPC MUG with any purchase in the month of August!